Na na na na na na na na na na na na na na na na… HEADLINES!
My ol' friend Doug Paton said I should write about Wayne Enterprises. Seemed like a cool idea, but I needed something more specific. So I went tactical and settled on The Bat Belt.
 I have everything for an emergency in my utility belt… except money to pay for our food and drink. 

– Batman
Batman's utility belt has been around since the Dark Knight was introduced. And thanks to the D.C. Database, there's a butt-load of information available. The tough decision was how to approach it?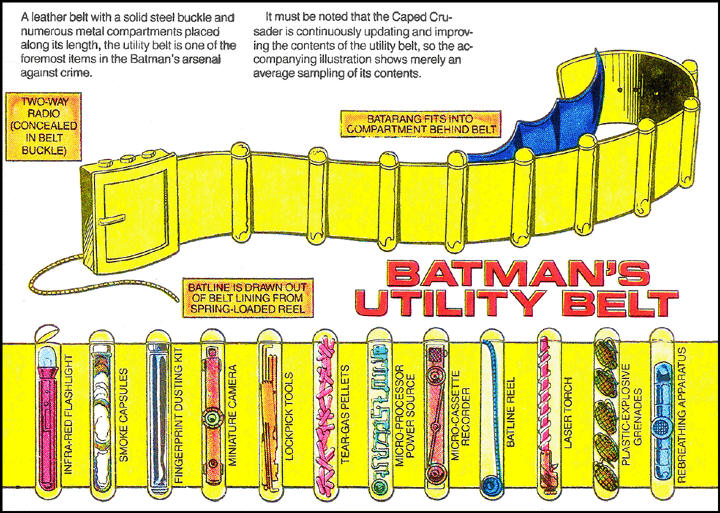 So I went real. I got into the make-believe headspace of Batman's designer—and I wrote as if I were selling the idea to Bruce Wayne himself. Dumb? You bet. Fun. Also yes.
Rather than make this more complicated than it needs to be, here are 100 headlines about Batman's belt:
1
Add a little practicality to your look
2
Designed for fashion. Built for ass kicking.
3
The utility belt that stops crime, and traffic
4
The finishing touch that takes your look from tactical to fierce
5
Your enemies will hate this belt
6
Pair this seasonless staple with your aura of doom for baddies
7
No matter the dangers you face, the answer is always in your belt
8
The only belt big enough to carry your damaged childhood
9
Look fierce. Feel comfortable. Fight Crime.
10
Without your belt, you're just another bat in the night
11
Add a little Kapow! to your look
12
A criminals worst nightmare, a heroes best friend, and active-lifestyle support for your pants
13
Suspenders are for jokers
14
It's time to buckle down on crime
15
Where does he get those wonderful toys? They're in the belt.
16
The belt prepared for battle
17
The belt that takes you from nights on Skid Row to mornings on Wall Street
18
Your complete set of crime fighting equipment
19
Just because you're a badass, doesn't mean you can't have style
20
When the only super power you have fits in your belt, make sure it's a big one
21
Hold up your bat pants
22
Goes with any outfit, from crime fighting to fundraising
23
The belt that goes with anything, as long as it's black, bulletproof and made of rubber
24
When you're fighting crime, the last thing you want is droopy drawers
25
Get that look that steals the

bat signal

spotlight
26
You'll never find a better resource for holding up your bat pants
27
The difference between being a hero & just another guy in a suit
28
The belt designed for superheroes
29
The belt that made fanny packs obsolete
30
The Swiss Army Knife of fashion accessories
31
For the superhero who needs to be prepared for anything.
32
Fear is an attitude. Wear it well.
33
Now everyone will be wondering where you get those wonderful toys
34
Be prepared for anything
35
12 compartments of fear. No ironing needed.
36
Even Superman wants a Bat Belt
37
New bat belt takes your look from dreary orphan to angry crime-fighter
38
Sneaky little pockets for self-defense, tactical maneuvers, and pure ass-kickery
39
New utility belt provides enough compartments to hide your secret identity, keys, and wall of emotions
40
Fully equipped with anything you'll ever need to save the day—now available in black.
41
Meet the belt that brought down Superman
42
On a good night, nobody will see what your belt can do.
43
The belt you wear for pleasure (if you get thrills from destroying evil)
44
Batmobile lost its wheel? Good thing you've got another in your belt.
45
Holds up your pants, even when you wear your underwear on the outside
46
The smart-looking addition to any crimefighter's closet
47
The accessory that packs as big of punch as your bat fists
48
The fanny pack built for ass kicking
49
Bring more BAM! to your belt
50
Get the belt your enemies will kill for
51
The belt that holds more than the basics
52
What other belt can save you from danger, carry your tools, and make you look this good?
53
The ultimate utility belt for the hero Gotham deserves
54
Simple but fashionable ways to obliterate your enemies
55
The cargo pants of belts
56
The bat belt that takes a beating—and give one too
57
"I hate this belt!" – The Penguin
58
A rare hero likes you deserves something chic
59
Tired of criminals snapping your bat suspenders?
60
Protect Gotham City from evil, and yourself from droopy drawers
61
New Bat Belt Feature—even has a compartment for Robin!
62
Conceal and carry every weapon in your arsenal—with style
63
Once you get enough experience under your belt, you'll want to put it in here
64
The enemy of your enemy is the support of your pants
65
The "Damn, where'd you get that belt, Batman?" belt
66
The utility belt that never goes off duty
67
Sometimes less is more. In your case, more is more.
68
How to carry every defensive weapon you'll ever need, all at once
69
Every hero needs a great belt. This one will be yours.
70
What's your best chance of making it through another night of villainy? The answer is strapped to your waist.
71
The belt that can stop traffic—and wipe crime from the streets
72
The belt that brings Gotham together
73
The belt that strikes fear into cats, bats & penguins
74
Now in adjustable sizes, for growing bet bellies
75
The finishing touch on crime fighting
76
With a belt like this, you don't even need super powers
77
Get the belt  worth fighting for
78
Gotham is watching. Make an impact.
79
Who else wants a belt that kicks ass?
80
Can your belt stop crime?
81
The difference between a hero and a sidekick lies in the belt
82
Everything you need to fight crime, protect yourself, and hold up your bat pants
83
The belt that can do anything (except save your parents)
84
The crafty fashion accessory for crime fighters
85
The tactical belt that's ready for battle
86
Hide that bat beer belly behind a belt of action
87
Everything you need to take down the bad guys, and look damn good doing it
88
The only downside to this belt is you can't wear it when you're not fighting crime
89
Dark nights call for black belts
90
Gotham's deplorables don't stand a chance when you look this good
91
You weren't planning on fighting crime in suspenders, were you?
92
The fanny pack that picks a fight
93
The belt is no joke
94
The belt that packs a punch
95
Designed to kick ass
96
How many gadgets can you fit on your belt?
97
The clown car of super hero utility belts
98
The finishing touch that adds punch to your kicks
99
The grab & go utility belt for crime fighting action
100
Without the proper belt, you're just another caped crusader
Overall: Hard, but good. (That's what she said.) There were a lot of different angles to play and I tried to hit as many as possible. If I were Bruce, I think these would sell me.
Lessons: This was harder than expected. It was fun—but I struggled after 70. Marny Bassett's book, Damn, That's a Great Subject Line!, helped me get over the hump with the fashion lines.
I pulled from reviews for a variety of products: Police gear, ammunition belts & utility kilts
The better lines (at least, the ones I like best) came when I was having fun
I ditched direct response. I was writing for an audience of one, so it didn't seem necessary
Time: 2 hours over 3 sessions. But it was worth it because I found this:
3 more days!!!